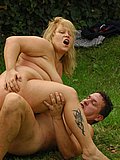 It takes more than one sex toy to satisfy her. After looking over her pictures, you'll know why. She's got a beautiful big body. The kind of body that gives you an instant hard on.
She starts out with a glass dildo. As if that wasn't enough, she then breaks out a powerful vibrator. Anything to please her hungry pussy. She's a busty chubby amateur that doesn't seem to know when to quit. Just when you think her pussy is as worked up as it can get, she pulls out another toy.
Some chubby sluts like this one seem like they just can't get enough.